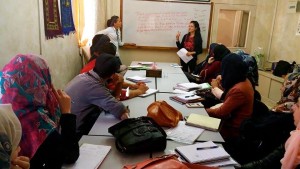 With increasing international work opportunities in tourism, business, and higher education, Palestinians are eager to develop their English language skills. Palestinian students study English throughout their academic careers but, in Hebron, they have very few chances to practice speaking in English.  As a volunteer on a teaching project, you will have a hugely positive impact on the students you teach by helping them improve their speaking skills.
Volunteer teaching in Palestine will provide you with the opportunity to learn about this fascinating country and its people. This experience is available to anyone with an interest in helping others to learn the English language. You do not need to have any previous teaching experience and we do not require you to take a TEFL course. Whether you want to volunteer during your gap year, career break, or as a volunteer vacation, you will have an important role to play and your efforts will be greatly appreciated.
Everyone on a volunteer placement with La Casa in Palestine stays with a local Palestinian host family or in a local Palestinian hostel. You will find the people in either facility incredibly welcoming and they will be eager to find out all about you and your life back home. Please contact us for more information.
Length of Stay: 2 weeks – 6 months
\To apply, please e-mail your resume/CV and cover letter to LaCasaLearningCenter@gmail.com.  Once it has been reviewed, we will forward you an application form and schedule you a Skype interview.